These delicious peppers bring so many good memories! I am from Monterrey, Mex. where Carne Asada is not
only a dish, but also a party. I think here, it would be like a 4th of July BBQ but In Monterrey, carne asada happens every weekend.
A friend of mine used to prepare these peppers every time we would get together for a carne asada.
There's so much simplicity in this dish but also so much flavor! What really makes this dish is the cheese. It has to be a little milky and creamy, that the flavor stands on its own but also pairs perfect with the heat from the jalapeño
and spices from the chorizo. That cheese is California Milk Asadero cheese. Make sure you look for the Real California Milk seal if you want a quality product with Authentic Latin flavor.  
What you need to make Cheese and Chorizo Stuffed Peppers
Jalapeño peppers
Olive oil
Real California Milk Queso Asadero
Corn tortillas
Fresh cilantro
Kosher salt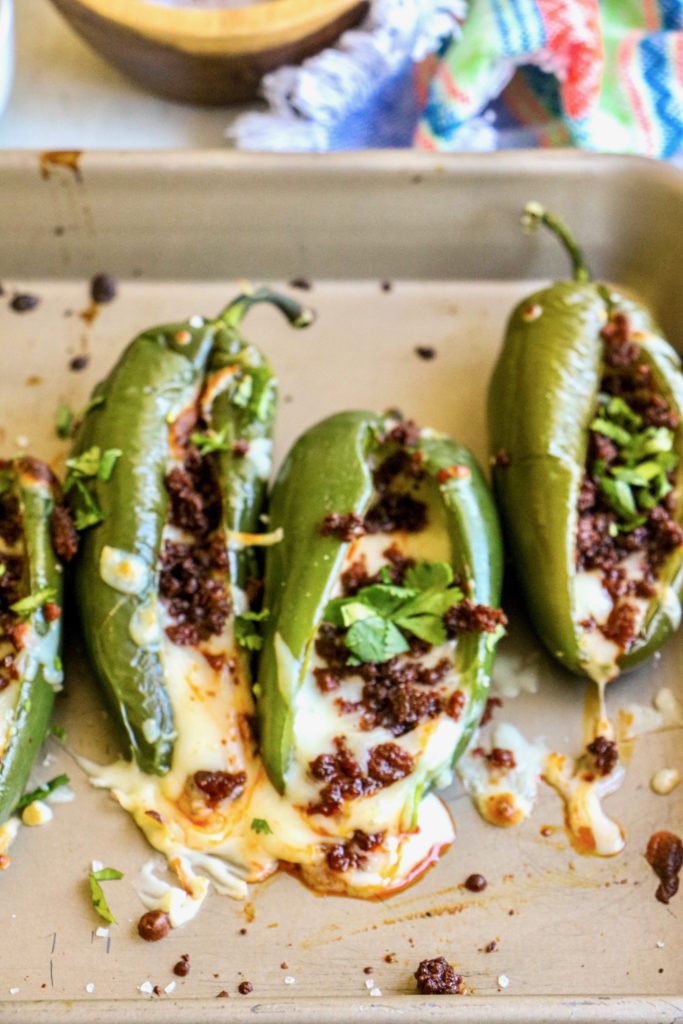 Tips and Tricks
If you feel intimidated by cleaning and seeding jalapeños make sure you use latex gloves while handling them or wash your hands immediately after. Avoid touching your face and eyes.
Most chorizos are very fatty and don't need much oil at all. Start by adding just a little bit, enough to get the chorizo going. Once it starts to brown it will release all of its fat. Transfer onto a plate lined with a pepper towel to get rid of any excess.
Other than that, this is a super easy and forgiving recipe. The taste of it all is in already in the ingredients, just get the good chorizo and cheese and the rest will take care of itself.
How to serve Cheese and Chorizo Stuffed Jalapeños
You can serve these peppers with a side of charro beans and Mexican rice, and they are perfectly delicious. My favorite way to eat them is as a side dish for fajitas! Just prepare the peppers and place them on the grill. These will make any carne asada fabulous!
For more Authentic recipes visit https://www.realcaliforniamilk.com/hispanic-dairy