Jump to recipe
This "Fig Cake" was the peek of my week in the kitchen! It is Gluten Free and Dairy Free. The batter is a combination of almond flour, tapioca flour, almond milk, sugar and eggs. The texture is beautiful and the figs make it look so fancy and effortless elegant.
This week was quite challenging in the cooking department. I did not have any inspiration or desire to cook, (big problem when you have a Cooking Blog and a Family to feed) but then I went to Central Market and saw these beautiful figs in the produce section and I just had to have them! I couldn't get home fast enough to make this cake.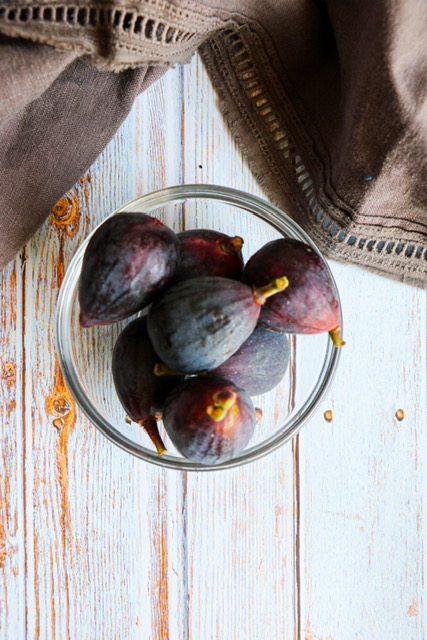 I used my Almond and Mandarin Cake as a base for this recipe. I tweaked the recipe just enough to let the figs flavor shine.
Whisk eggs, vanilla, oil and sugar. Mix dry ingredients: Almond flour, tapioca flour, baking, soda, baking powder and salt. Add dry ingredients into wet ingredients and mix.
I removed the stem from the figs and cut them in half and place them cut side up on top of the cake batter. I like lining the cake pan with a large piece of parchment paper, that way is easier to lift the cake and transfer to a platter.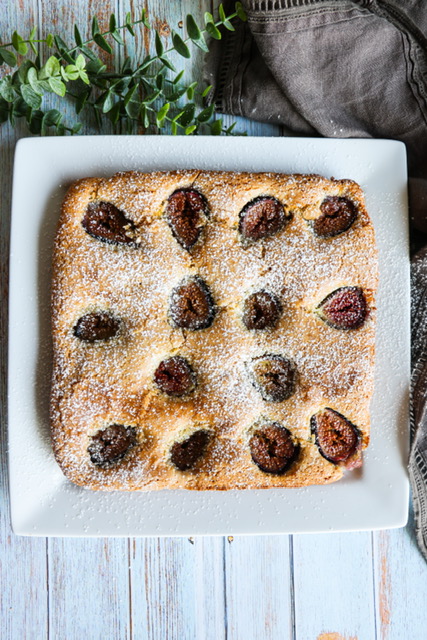 Just a little dust of powder sugar and it is ready. It turned out delicious! It tastes even better the next day. This is not a very sweet cake so, if you're not strictly dairy free I suggest to serve this cake with a dollop of whip cream. It will be the perfect finish. This cake totally made up for a bad week in the kitchen.
Here's the link to my Almond and Mandarin Cake if you want check it out: http://marisolcooks.com/2020/07/27/mandarin-almond-cake-gluten-free-dairy-free/
Find the recipe for my Fig Cake below!
Fig Cake/ Gluten & Dairy Free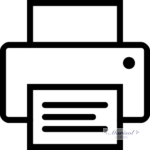 Ingredients
2 eggs
1/4 cup oil
1/4 cup almond milk
1 teaspoon vanilla extract
1/2 cup sugar + 1 Tablespoon
2 cups almond flour
1/2 cup tapioca flour
1/2 teaspoon baking soda
1 teaspoon baking powder
pinch of salt
7 to 8 small figs
Powder sugar (optional)
Instructions
Preheat oven to 350 Degrees.
Line the bottom of an 8″ cake pan with parchment paper and spray it with cooking spray. Set aside.
In a large bowl whisk together the eggs, oil, almond milk, vanilla extract, and 1/2 cup of sugar.
In a separate bowl mix together the almond flour, tapioca flour, baking soda, baking powder and salt.
Add the dry ingredients into the wet ingredients and whisk until well combined.
Pour batter into prepared pan and set aside.
Cut the figs in half and arrange them on top of the cake batter cut side up.
Sprinkle the figs evenly with 1 tablespoon of sugar.
Bake for 40 to 45 minutes or until golden brown.
Let the cake cool down for at least 10 minutes before removing from the pan.
Transfer to a cake platter sprinkle with powder sugar if desire.
Enjoy!
© 2023 Copyright 2020 MarisolCooks.com