Jump to recipe
I love tomato soup, it is one of my favorite ways to eat tomatoes (considering I don't like tomatoes very much) but I am very particular about the acidity of the soup. Most people make tomato soup with can tomatoes which to my taste it is very acidic, so much that you have to balance it with sugar. If you make it with fresh tomatoes you need to make sure they are very ripe and in season or otherwise your soup will not taste like tomatoes.
If you face the same dilemma you are going to love this recipe. It is perfectly balance thanks to the combination of ripe tomatoes and tomato sauce. The best of both worlds! Also, the addition of roasted peppers give this soup a little sweetness and depth of flavor that makes it even more delicious and comforting. Serve with my homemade parmesan croutons and you're in for something really delicious and special.
What you need to make Roasted Pepper and Tomato Soup
Tomatoes: I used very ripe Roma tomatoes
1 carrot: Peeled and dice
1/2 celery stalk: Used 1 if small
Onion: Diced. If too small do 1/2 onion, you should need about 1/3 cup
Garlic: fresh, always fresh
Roasted piquillo peppers: Get the jarred peppers! Roasted, peeled and ready to use.
Basil: It will be blended with the soup, if you don't have fresh basil use about 2 teaspoons of dry.
Tomato sauce
Chicken stock
Parmesan Croutons for serving: Parmesan Croutons – Marisol Cooks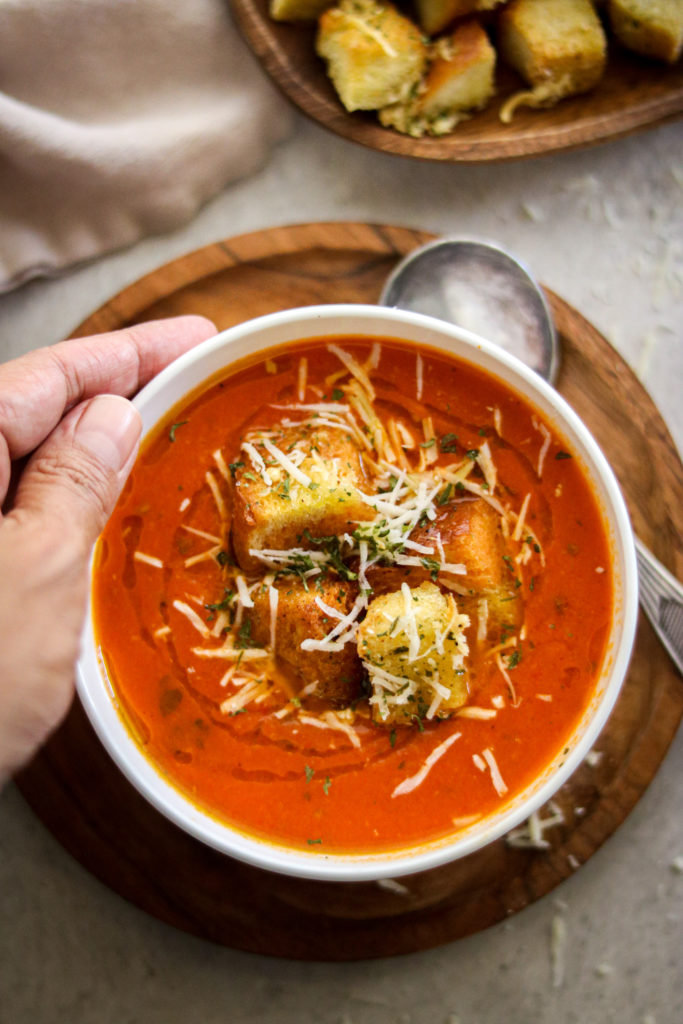 Helpful tips to make Roasted Pepper and Tomato soup
I like to sautee the veggies because it gives the soup another layer of flavor also, like most soups, the longer it simmers the better. I simmered the soup for about 25 minutes and it turned out great! you can go up to 40 minutes, just you keep a very gentle simmer and make sure you don't run out of stock.
Always season as you go! Once the veggies are tender, season them with salt and pepper, when you add the tomato sauce and stock, let it simmer and taste so you can add more salt if needed. After it simmers for 25 minutes, taste it again. This way you will always have perfectly seasoned soup.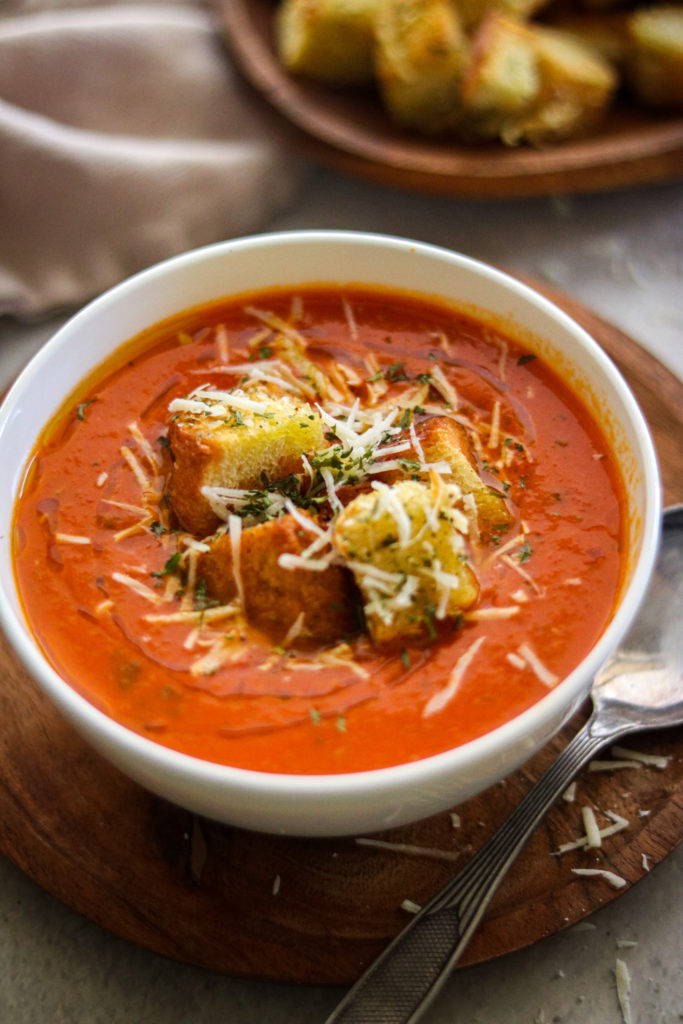 These Parmesan croutons are the perfect topping for this soup. The golden brown and crispy bread soaked in tomato soup it is just divine. Plus, they are so easy to make there's no reason to skip them. I mean, just look at them, aren't they a beauty?
Link to the Parmesan Croutons recipe here:
Other recipes you might like:
Chicken Noodle Soup – Marisol Cooks
Chicken Pot Pie Soup – Marisol Cooks
Lentil Vegetable Soup – Marisol Cooks
Minestrone Soup – Marisol Cooks
Cream of Mushroom Soup – Marisol Cooks
Meatball and Vegetable soup – Marisol Cooks
Zuppa Toscana/Paleo – Marisol Cooks
Roasted Pepper and Tomato Soup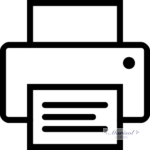 Notes
I Prefer not to use the blender for hot items but if you don't have an immersion blender I suggest to wait until the soup cools down. You can also leave a gap between the blender and the lid to let the steam escape while you blend the soup.

Ingredients
1 tablespoon olive oil
3 large very ripe Roma tomatoes
1 carrot
1/2 celery stalk
1/4 onion
2 garlic cloves
3-4 roasted piquillo peppers
small bunch of basil
8 oz tomato sauce
2- 2/12 cups chicken sock
salt and pepper to taste
Parmesan croutons (optional)
Instructions
Dice the tomatoes, carrot, celery and onions into big chunks. Minced the garlic and set the veggies aside.
In a large sauce pan add the oil and turn the heat to medium high. Once the oil is hot add the veggies along with the roasted peppers and sautee until tender.
Add the basil, tomato sauce and chicken stock, season with salt and pepper. Cover, lower the heat and simmer gently for 20 to 30 minutes.
Transfer to a blender or using an immersion blender (safest choice) blend the soup until very smooth. Taste and adjust seasoning if needed.
To serve the soup drizzle with a little olive oil and top with the parmesan croutons.
Enjoy!
© 2023 Copyright 2020 MarisolCooks.com