Jump to recipe
Tres Leches cake (Pastel de Tres Leches) is a very popular cake in Mexico. The cake is very light and fluffy with many air bubbles that make it easy to absorb the tres leches (evaporated milk, condensed milk and heavy cream). The frosting is made out of whipped cream and sugar. That's it. Very simple but very delicious and so well balanced.
There are many variations to this recipe and today I want to show you the Pistachio version. The flavor is very subtle and delicate in contrast to the crunchy nuttiness from the chopped pistachios. I used green gel coloring to make it a little fun. I love how it turned out! It is almost to pretty to eat. Almost.
What do you need to make Pistachio Tres Leches Cake
All purpose flour
Baking powder
Eggs
Sugar
Vanilla extract
Pistachio extract
Whole milk
Evaporated milk
Sweetened Condensed milk
Heavy cream
Powder sugar
Green coloring
Pistachios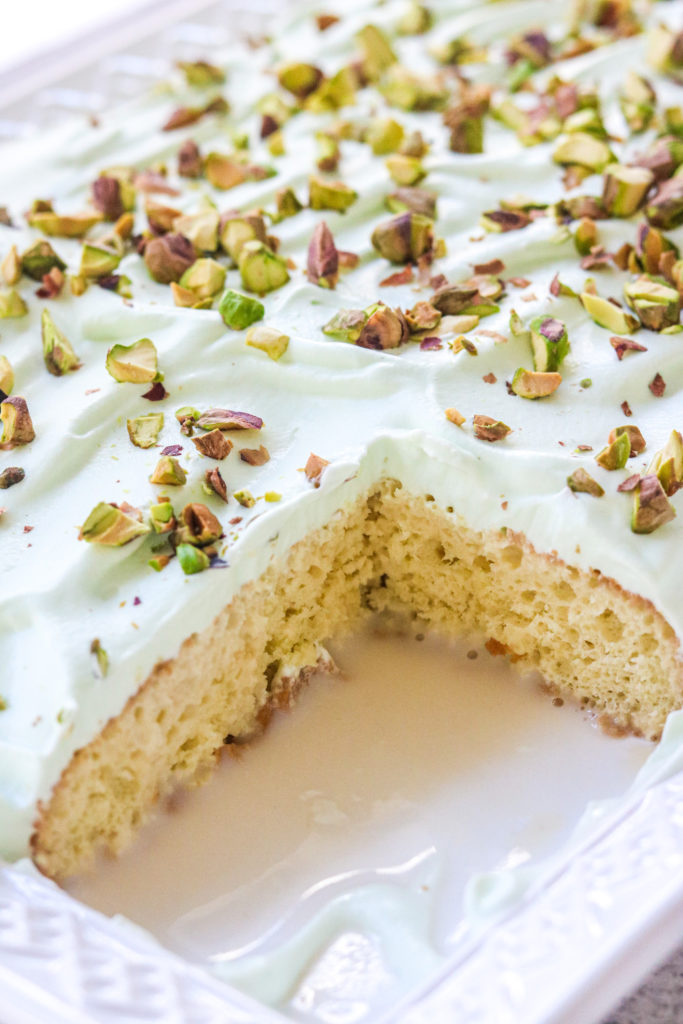 Helpful Tips and Tricks
The Tres leches cake needs a little bit of time to absorb all the milk goodness. The process will take about an hour but what I like to do is to make the cake in the morning to serve it the same night, that way the cake has not only absorbed all the milk, but it is also completely chilled. This cake is best when served cold.
Make sure there's plenty of milk around the edges of the cake since that is the driest part of the cake.
The pistachios will become soft from the moisture of the cake. I like to sprinkle the pistachios on top once I am ready to serve the cake. You can also add the chopped pistachios to each slice of cake you serve and not on the whole cake. That way you can store the left-over cake in the refrigerator and use fresh pistachios when serving the leftovers.
Pistachio Tres Leches Cake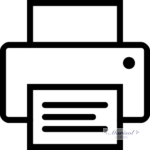 Ingredients
• Ingredients
• 1 cup All-purpose Flour
• 1-1/2 teaspoon Baking Powder
• 1/4 teaspoon Salt
• 5 whole Eggs
• 1 cup Sugar, Divided
• 1 teaspoon Vanilla
• 1 teaspoon pistachio extract
• 1/3 cup Milk
• 1 can Evaporated Milk
• 1 can Sweetened, Condensed Milk
• 1/4 cup Heavy Cream
FOR THE ICING:
• 1-pint Heavy Cream, For Whipping
• ¼ cup powder sugar
• Green gel coloring (optional)
• ½ cup chopped pistachios
Instructions
Preheat oven to 350 degrees. Spray a 9 x 13-inch pan liberally with cooking spray.
2. Combine flour, baking powder, and salt in a large bowl.
3. Separate eggs. Add yolks into a medium size bowl and reserve the whites in a separate bowl.
4. Beat egg yolks with 3/4 cup sugar on high speed until yolks are pale yellow. Stir in milk, vanilla, and pistachio extract. Pour egg yolk mixture over the flour mixture and stir very gently until combined.
5. Beat egg whites on high speed until soft peaks form. With the mixer on, pour in remaining 1/4 cup sugar and beat until egg whites are slightly stiff.
6. Gently fold egg white mixture into the batter until just combined. Pour into prepared pan and spread to even out the surface.
7. Bake for 25 to 30 minutes or until a toothpick comes out clean. Turn cake out onto a rimmed platter and allow to cool.
8. Combine condensed milk, evaporated milk, and heavy cream in a small pitcher. When cake is cool, pierce the surface with a fork several times. Slowly drizzle all but about ½ cup of the milk mixture—try to get as much around the edges of the cake as you can.
9. Allow the cake to absorb the milk mixture for up to 1 hour.
10. To ice the cake, In the bowl of an electric mixer add 1-pint heavy cream, ¼ cup of powder sugar and a few drops of food coloring if using and whisk until thick and spreadable.
11. Spread over the surface of the cake. Decorate cake with the chopped pistachios. Keep the cake cool in the refrigerator until ready to serve.
© 2023 Copyright 2020 MarisolCooks.com