Jump to recipe
This Apple Upside Down Cake recipe is one the oldest recipes in my collection and definitely one of my favorites. One of the ingredients for this cake is cornmeal, which is a little unusual, but it works so well in here! The cornmeal gives the cake a beautiful golden color and an unexpected crunch that contrast with the softness and fluffiness of the cake. Pair with reach caramel and thinly sliced apples, this cake is simply delightful. I hope you love it as much as I do.
What you need to make Apple Upside Down Cake
Butter
Brown sugar
Granulated Sugar
Cinnamon
Nutmeg
Apples
All-purpose flour
Cornmeal
Baking powder
Eggs
Vanilla
Salt
Milk
Powder sugar
Whipped cream for serving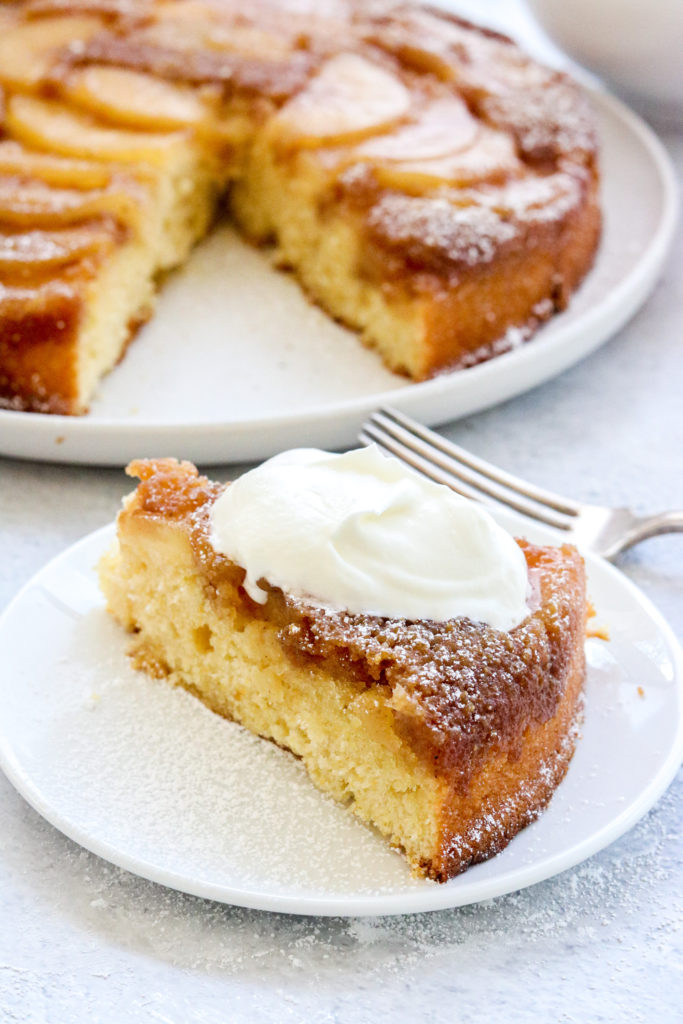 Helpful Tips
Because of the coarse texture of the cornmeal the batter might look a little lumpy, that is ok. They cake will come out super soft with a slightly crunchy from the cornmeal. This cake is different to any other cake I've had, and it is definitely one of my favorites.
I have also made different variations of this cake depending on the season. Apples, Pears and Peaches are all equally delicious. I like the lightness of fresh whipped cream for a fall cake (apples or cake) but for summer (peaches), I love to top it with a big scoop of vanilla ice cream. Simply perfect!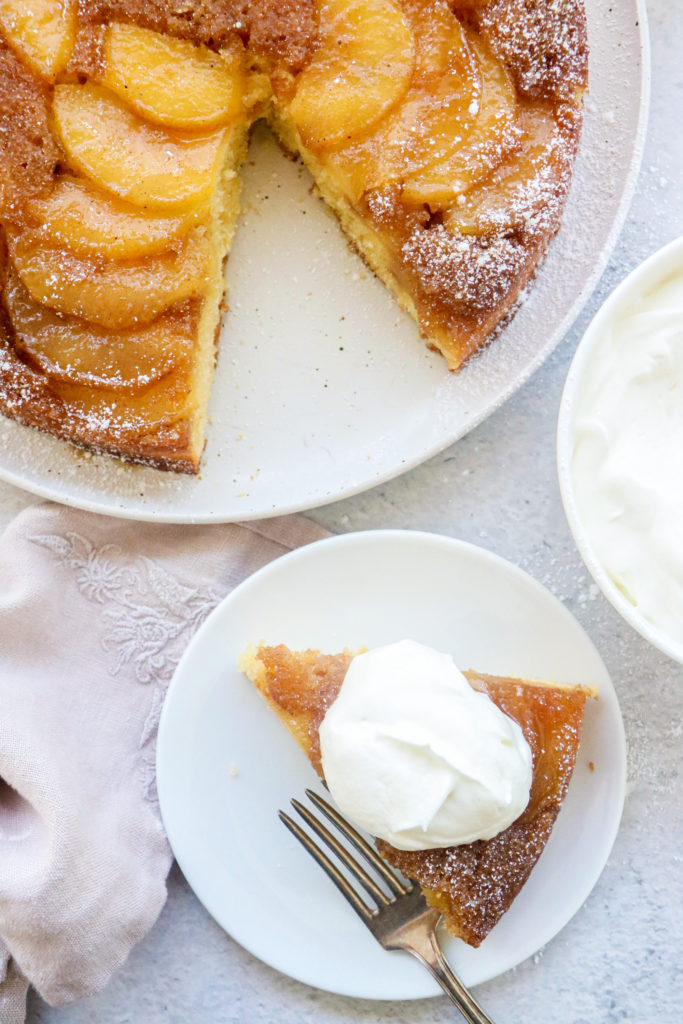 Apple Upside Down Cake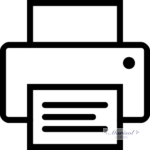 Ingredients
½ stick unsalted butter, plus extra for greasing the pan
½ cup brown sugar
¼ teaspoon cinnamon
dash of nutmeg
2 small apples, peeled, cored, and thinly sliced
6 tablespoons unsalted butter, room temperature
1 cup granulated sugar
2 large eggs
1 teaspoon vanilla
1 cup all-purpose flour
¼ cup corn meal
1 teaspoon baking powder
¼ teaspoon salt
½ cup milk
Whipped cream for serving
Instructions
Preheat oven to 350 degrees. Butter the sides of a 9" cake pan.
Place a small saucepan on medium heat and melt the butter. Add the sugar, cinnamon and nutmeg and let it boil for about 5 minutes stirring constantly. Pour the caramel into prepared cake pan and tilt the pan around to fully cover the bottom.
Arrange the apple slices as you desire, making sure to cover the bottom of the pan. Set aside.
In a small bowl whisk the flour, cornmeal, baking powder and salt.
In a separate bowl cream together the room temperature butter and sugar. Add the eggs, one at a time mixing well after each addition, add vanilla extract.
Mix in flour and milk alternating ingredients. Starting and ending with dry ingredients. Do not over beat.
Pour cake batter over the apples and evenly spread the batter with a spatula. Bake for 40-45 minutes or until a cake tester comes out clean.
Let the cake cool for 10 minutes and run a knife all around the edge of the cake to help to lose it up. Invert the cake onto a cake plater and let it cook for 20 minutes.
Serve with whipped cream. Enjoy!
© 2023 Copyright 2020 MarisolCooks.com