Jump to recipe
Spring is almost here and that means Easter is just around the corner. I just love this season! Potlucks, parks, and everything blooming. This "Key Lime Pie" has all the things I love and more. It is perfect for a potluck because you can make it a heat of time and it travels perfect. The flavor is so bright, sweet, and a little tart. It reminds me of spring and fun times; and of course, it is so delicious!
What you need to make Key Lime Pie
Graham crackers
Brown sugar
Salt
Butter
Sweetened condensed milk
Sour cream
Limes
Heavy whipping cream
Powder sugar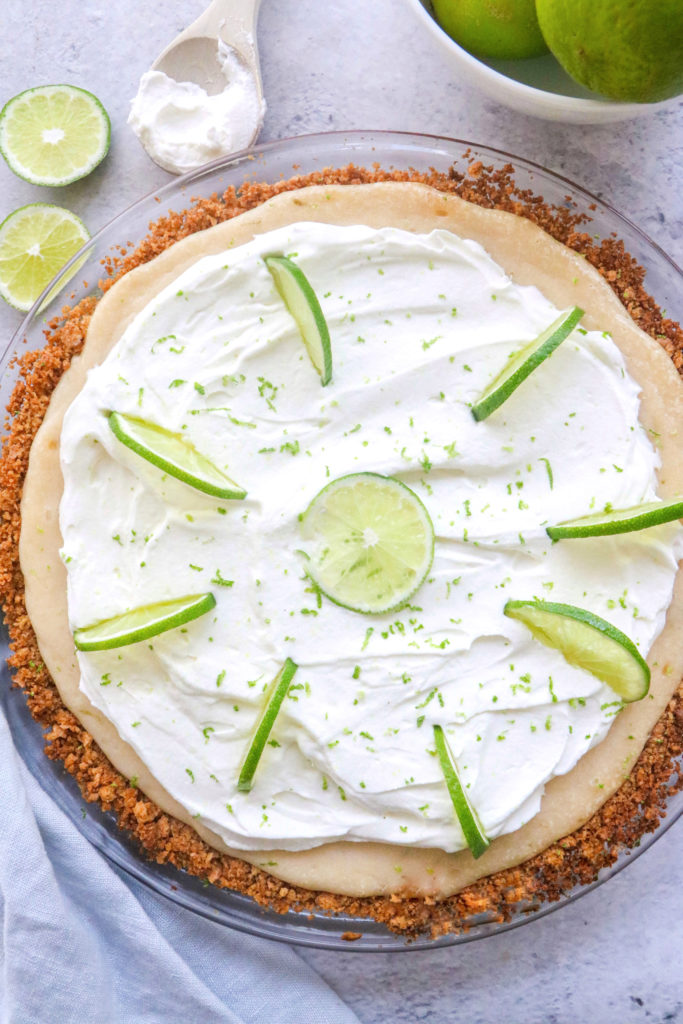 Helpful Tips and Tricks
This pie is very rich and sweet, 1/4 cup of sugar might not seem like a lot but it really goes a long way. I highly encourage you to make the whipped cream yourself, that way you can control de amount of sugar that goes into it.
Make sure the pie is completely cool before you put it in the fridge. If the pay is still warm, the crust will stick to the pan, and you'll be left with a crustless slice of key lime pie. That happened to a friend once, "ahem".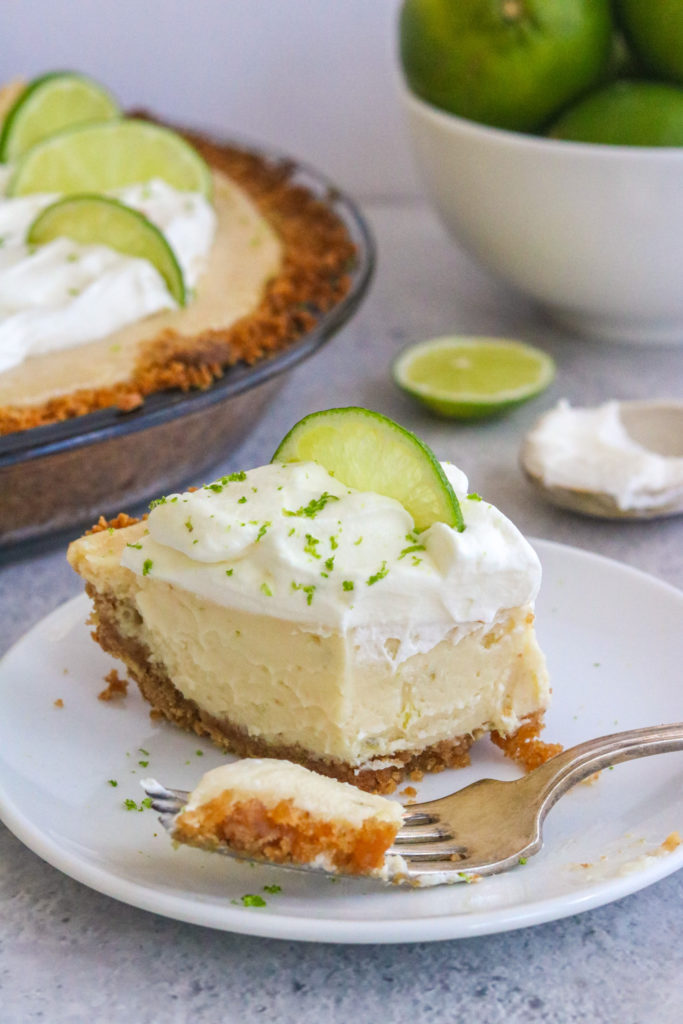 Other recipes with Sweetened Condensed Milk I think you'd love:
Mocha Ice Pops – Marisol Cooks
Pay de Queso/Cheese Pie – Marisol Cooks
3 Ingredients Mango Ice cream (No-Churn) – Marisol Cooks
Pan de Elote/ Mexican Corn Cake – Marisol Cooks
Key Lime Pie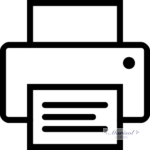 Ingredients
1 Sleeve graham crackers, finely crushed (about 9 whole cookies)
1/3 cup packed brown sugar
5 tablespoons melted butter
¼ teaspoon salt
FOR THE FILLING
Two 14oz cans sweetened condensed milk
½ cup sour cream
Zest of 2 limes (about 1 tablespoon)
¾ cups fresh lime juice
FOR THE TOPPING
1 cup heavy whipping cream
¼ cup powder sugar
1 lime thinly sliced
Zest of 1 lime
Instructions
Make the crust: Preheat oven to 375 degrees. In a 9" pie pan, mix the graham crackers, brown sugar, salt and melted butter. Press down the crust on to the pie pan, making sure to cover the sides of the pan as well. The crust should be about ¼" thick. Bake the crust for 10 minutes.
Let the crust cool on a wire rack.
Make the filling
Lower the temperature to 350 degrees. In a large bowl of an electric mixer, mix together the sweetened condensed milk, sour cream, lime zest and lime juice for about 3 minutes. Pour the mixture into the cooled graham cracker crust. Bake for 20-30 minutes until the filling is set.
Let the pie cool at room temperature (about 1 hour) and transfer to the refrigerator to chill (about 3 hours)
Make the whipped cream topping: In the bowl of an electric mixer, add the heavy cream and powder sugar and beat until medium peaks form. Top the pie with the whipped cream and decorate with lime slices and lime zest. Chill until ready to serve.
Enjoy!
© 2023 Copyright 2020 MarisolCooks.com