Jump to recipe
Oatmeal is one of my all-time favorite breakfasts. It is filling, nutritious, good for your gut, helps reduce cholesterol and it is so delicious! But even when I love it so much, sometimes I don't have time to make oatmeal in the morning or I am way too hungry to wait. Yes, hunger makes me very impatient. This is exactly why I love this baked oatmeal so much, because I can make it ahead of time and just quickly pop a healthy portion in the microwave and in 30 seconds it is warm and delicious, like just when it came out of the oven.
There is also quinoa in this Baked Oatmeal. Yes, please! Adding a little quinoa was a game changer. It makes a big difference in the texture of this baked oatmeal. It makes it light and fluffy. Oatmeal can be mushy if you let it sit in the fridge for a while but not if you add quinoa.
Peaches are in season! I added them in for a fresh summery flavor. It was Perfection.
What you need to make The Best Baked Oatmeal
Oats
Cinnamon
Baking Powder
Milk. I used almond milk to keep it dairy free. Any type of milk would work.
Maple syrup. Not Maple flavor syrup. This baked oatmeal is not very sweet and that is perfect for me because I like to top it with more syrup when I serve it. If you want to make it sweeter, you can always add 1/4 cup brown sugar.
One ripe banana
One egg
Vanilla extract
Coconut oil or any neutral flavor oil. Melted butter would also work great if you don't care for dairy free.
Quinoa. I always have the microwave pouches in my pantry. They are conveniently ready in 90 seconds. Red quinoa is my favorite.
Chopped pecans
Fresh peaches. Frozen would also be ok. Other great options if you can't find fresh peaches are apples and blueberries.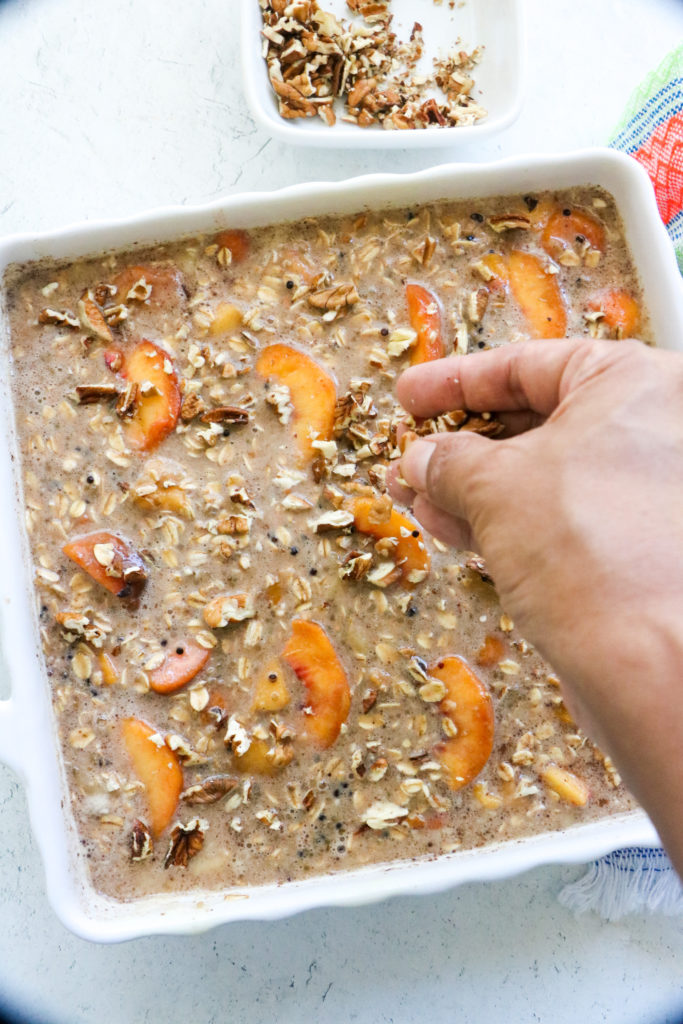 Helpful Tips and Tricks
No tricks to it. It is as simple as throwing everything into a bowl and mixing it together. Done.
If you want to freeze the baked oatmeal just let it cool completely and slice it into portions. I get nine portions out of an 8×8″ baking dish. Once it is portioned, place the squares on a baking sheet and transfer to the freezer for 30 minutes. This is called "flash freezing" and it will prevent the portions of oatmeal from sticking together. After the 30 minutes transfer into a large zip top back and return to the freezer until ready to use. To warm up the oatmeal simply place it into a bowl and microwave for 45-60 seconds. Serve with a splash of milk and maple syrup.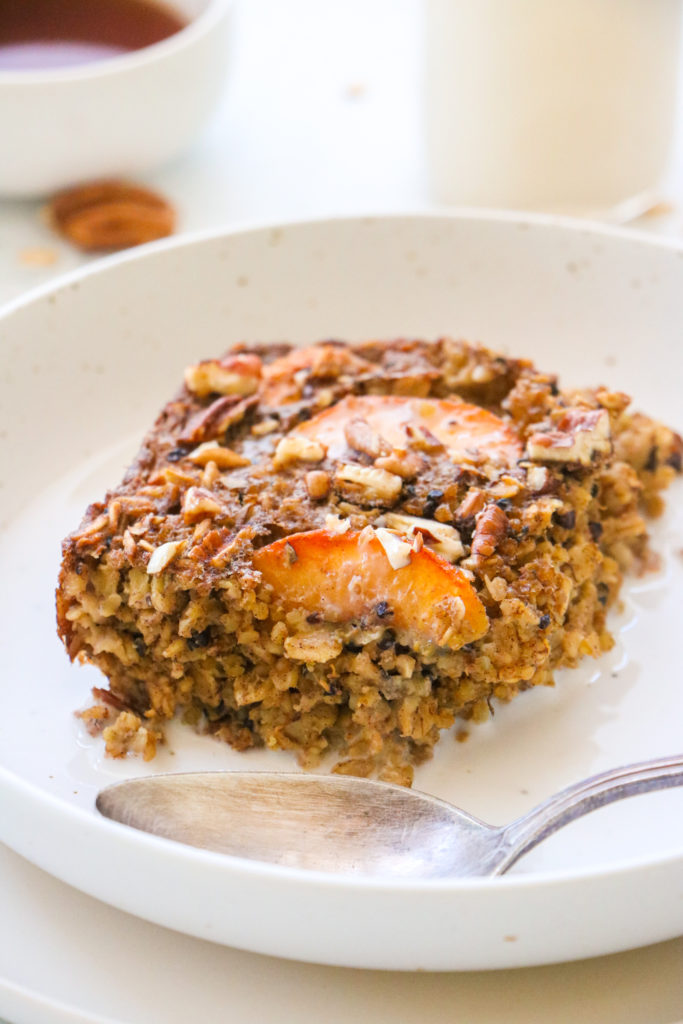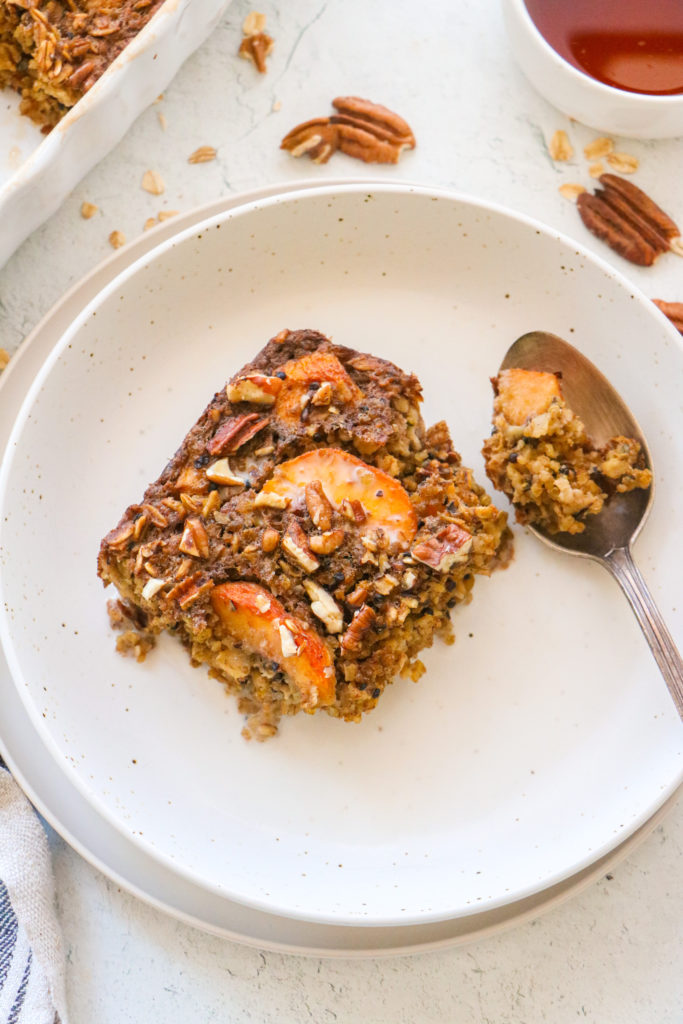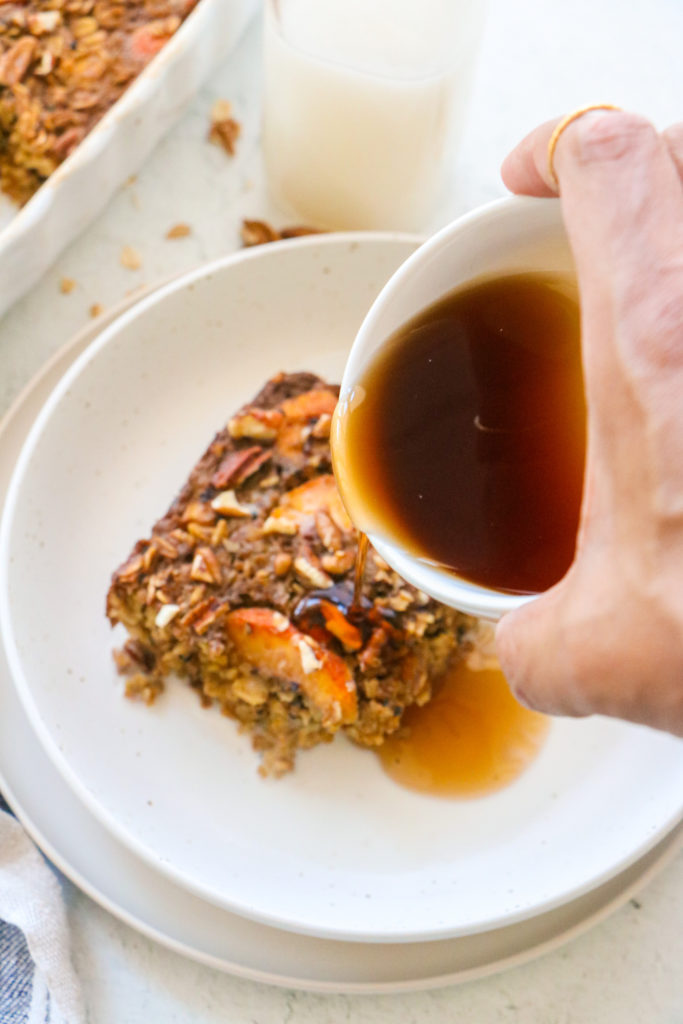 Other Oatmeal recipes you might like
Soft Oatmeal Almond Cookies – Marisol Cooks
Banana Baked Oatmeal Bars – Marisol Cooks
Orange and Cranberry Oatmeal Scones – Marisol Cooks
Pumpkin Oatmeal Scones – Marisol Cooks
The Best Baked Oatmeal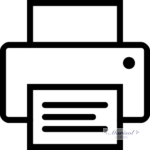 Ingredients
2 cups oats
1 teaspoon cinnamon
1 1/2 teaspoons baking powder
1 teaspoon salt
2 cups nut milk
1/4 cup maple syrup
1 ripe banana, mashed
1 egg
1 teaspoon vanilla
1 tablespoon coconut oil
1 cup cooked quinoa
1 1/2 cups diced peaches (about 2 peaches)
1/4 cup chopped pecans
Instructions
Preheat oven to 350 degrees. Grease an 8×8 baking dish.
To remove the skin from the peaches: Add water to a saucepan halfway full and bring the water to a boil.
In a separate bowl add water and ice, enough to cover the peaches.
Drop the peaches into the boiling water and blanch them for just 30 seconds. Remove the peaches from the boiling water and drop them into the iced water. The skin should easily come off. Remove the pit and dice.
In a large bowl add the oats, cinnamon, baking powder and salt. Mix.
In a separate bowl whisk in the nut milk, maple syrup, smashed banana, egg, vanilla and oil.
Mix wet ingredients into dry ingredients. Mix in the quinoa and peaches.
Pour the oat mixture into prepared baking dish and sprinkle the top with chopped pecans. Bake for 45-50 minutes.
Serve with a splash of nut milk and maple syrup.
© 2023 Copyright 2020 MarisolCooks.com