Jump to recipe
Who doesn't love a meal that not only can be put together in 15 minutes but it also tastes like you spend a lot of time cooking it? This Buffalo Chicken Flat Bread is all of that and more. Perfect for those super busy days (or lazy days… ain't gonna judge) this is going to be one of your favorites go-to weeknight dinners.
I love taking my time cooking as much as I love easy and convenient meals. For this Buffalo Chicken Flat bread I used pre-made flat bread and left over rotisserie chicken. The rest are ingredients that most of us already have in the fridge like buffalo sauce and ranch dressing. So, give it go! It won't dissapoint.
What you need to make Buffalo Chicken Flat Bread:
-Store bought flat bread.
–Mozzarella cheese. I used a small amount of cheese, just enough to make all the ingredients stick to the flat bread and don't fall out at the first bite.
–Rotisserie chicken. I used left overs. You won't need a whole lot of it.
-Buffalo Sauce.
-Blue cheese.
-Red and green onions. These are optional but if you have them, don't skip them. I love the bite and freshness these two give to the flat bread.
-Ranch dressing.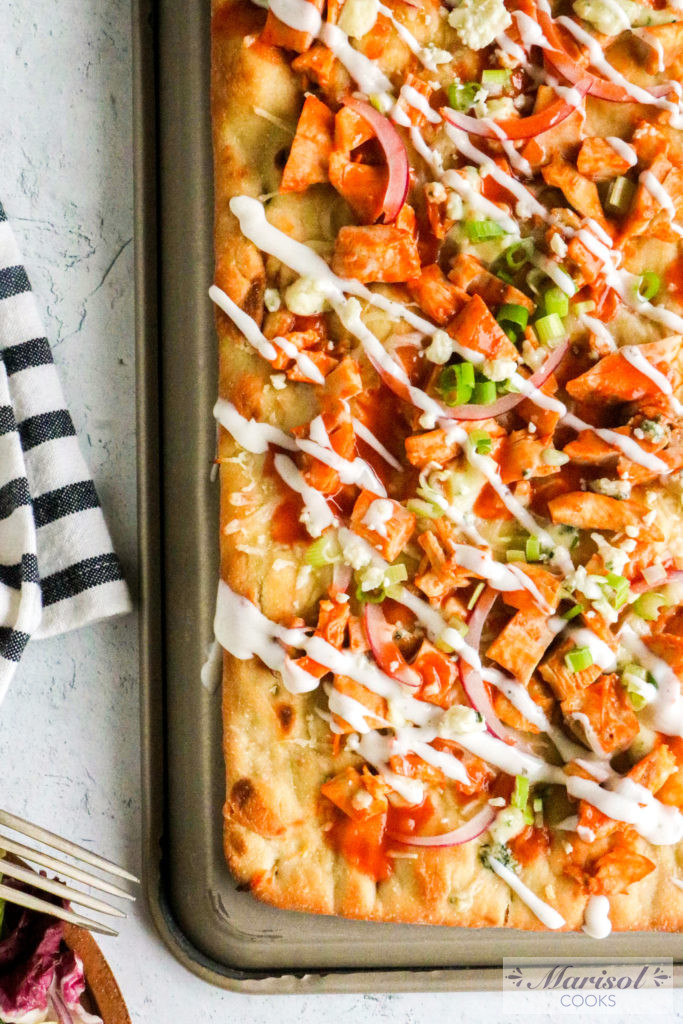 What you need to know before you make this recipe:
You can bake the flat bread directly on your oven rack for a crisp crust or place a wire rack on a baking sheet and bake it that way. What you want is air circulating around the bread in all directions. This is what will make it crispy.
There is not right or wrong when it comes to ingredients and quantities, if you like a very saucy chicken just add more sauce, if you don't like blue cheese you can use feta or even goat cheese. You can also use store bough pizza dough! Just cook according package instructions.
Hope you give it a try! Recipe below.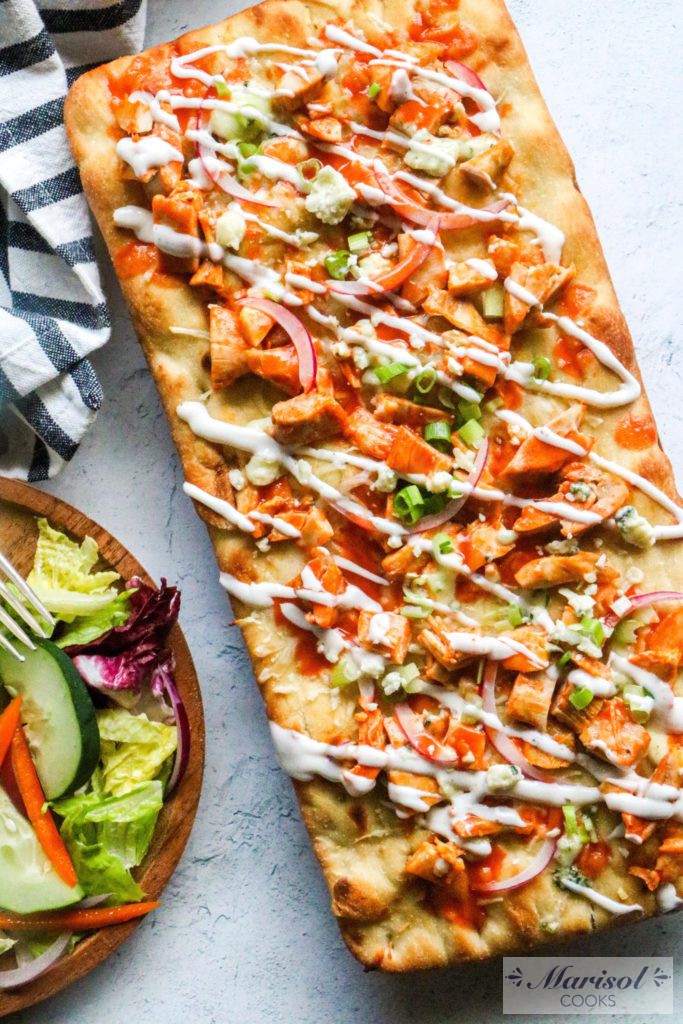 Related links:
Air Fryer Buffalo Chicken Wings – Marisol Cooks
Baked Buffalo Chicken Wings – Marisol Cooks
Buffalo Chicken Flat Bread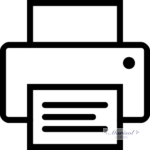 Serving Size
1/2 flat bread
Ingredients
2 flat breads
olive oil
1 cup shredded mozzarella cheese (or any melting cheese)
2 cups shredded rotisserie chicken
1 cup buffalo sauce (plus more for drizzling)
1/2 cup thinly sliced red onion
1/3 cup crumbled blue cheese
2 green onions, thinly sliced
ranch dressing
Instructions
Preheat Oven to 425 Degrees.
Arrange the two flat breads on a baking sheet.
Brush the flat bread with a little olive oil and sprinkle 1/2 cup of mozzarella cheese on each bread.
In a bowl, mix the shredded chicken and buffalo sauce. Divide the mix in two and evenly scatter the chicken on the two breads.
Add the red onion and crumble blue cheese. Bake 8-10 minutes.
Once the flat bread is done, top with the green onions and extra buffalo sauce. Drizzle with ranch dressing before serving.
Enjoy!
© 2023 Copyright 2020 MarisolCooks.com