Jump to recipe
One of the most nostalgic, and close to my heart dishes is Sopa de Albondigas. My grandmother used to make the best Albondigas ever! Unfortunately, this is not her recipe, but I think it's pretty close. My kids are obsessed with this soup as much as I was with my grandma's albondigas which is pretty amazing. They always request this soup and every time I say I need to double the batch because we never have leftovers. Is that good.
What you need to make Albondigas con Fideo
Ground beef
Egg
Garlic cloves
Onion
Maggie seasoning sauce. You are going to need only a few dashes. If Maggie sauce is not available, you can substitute for Worcestershire sauce.
Salt and pepper
Fresh mint
Fresh cilantro
Guajillo pepper. Guajillo pepper is one of the most used peppers in Mexican cuisine. It is a dry pepper; it needs to be hydrated in hot water before using.
Onion
Garlic clove
Chicken stock
Fideo grueso or Vermicelli (broken into small pieces)
Green beans
Carrots
Zucchini
Lime wedges, hot sauce and tortillas for serving.
Full recipe below.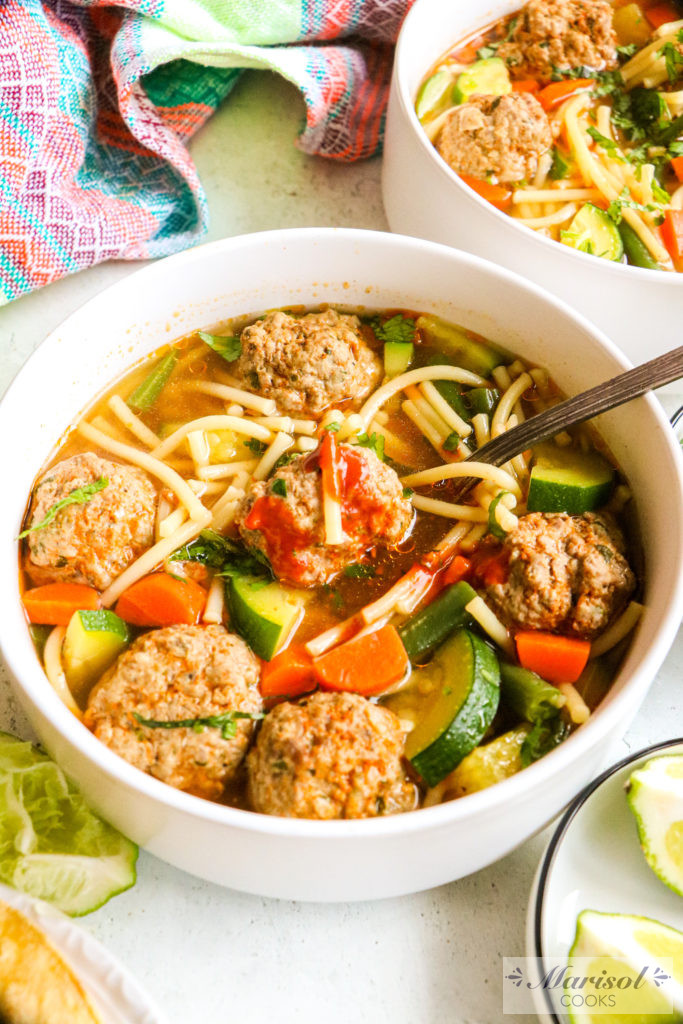 Helpful Tips and Tricks
I always mix the meatball ingredients with a fork first and then form the meatballs with my hands. I find that if you overwork the mixture, the meatballs get dense and tough.
Always make sure the broth is at a boiling point before you add in the meatballs. This way the meatballs won't fall apart in the soup.
Albondigas con Fideo (Fideo and Meatball soup)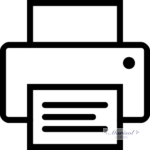 Ingredients
–For the meatballs–
1 lb ground beef
1 egg
2 garlic cloves, minced
1/4 cup finely choppped onion
Few dashes of Maggie seasoning
1 teaspoon salt
1/2 teaspoon pepper
1 small bunch mint
1 small bunch fresh cilantro
–For the Broth–
1 Tablespoon oil
1 large guajillo pepper, seeded
small piece of onion (about 1/4 cup)
1 garlic clove
8 cups chicken stock
6 oz Fideo grueso or vermicelli (broken into small pieces)
–Vegetables–
1 cup fresh green beans, cut into thirds
1 large carrot, diced
1 zucchini, diced
**Lime wedges, tortillas, and hot sauce for serving
Instructions
In a small saucepan, add some water and guajillo pepper. Bing to a boil and turn the heat off. Let the pepper soak for about 5 minutes until soft. Let it cool.
Meanwhile, make the meatballs. In a mixing bowl add the ground beef, egg, 2 cloves minced garlic, 1/4 cup chopped onions, Maggie seasoning, 1 tablespoon chopped mint, 1 tablespoon chopped cilantro, salt and pepper. Form the meatballs about 1 1/2 tablespoons in size. Set aside.
Blend the guajillo pepper, small piece of onion, 1 garlic clove and 1/4 cup of water until very smooth. You can strain the sauce if desire.
Add the oil to a large pot and turn the heat to medium high. Once hot pour the sauce in and cook for 5 minutes. Add the chicken broth and bring to a rolling boil.
Once the broth is boiling, gently drop in the meatballs. Lower the heat to medium low and cook for 15 minutes.
Add the carrots and green beans and cook for 5 minutes.
Add the broken pasta and cook for 8 minutes.
Finally add the zucchini, some of the fresh cilantro and mint and cook for another 10 minutes.
Serve with lime wedges, tortillas and hot sauce.
Enjoy!
© 2023 Copyright 2020 MarisolCooks.com