Jump to recipe
These potato tacos are truly a gem! Making them couldn't be easier. They are absolutely delicious, too! The potatoes are cooked in a rich tomato and guajillo sauce, the combination is so good I can just eat the potatoes out of the skillet. Luckly, these potatoes survived me and became the filling for these scrumptious tacos. I found baking them is the easiest way to get crispy, golden-brown tacos without having to fry them. Winner! You can also make a bunch at a time, so these are great for entertaining. Just fill a baking sheet with tacos and bake until crispy.
What you need to make Potato Tacos
For the potatoes
Olive oil
Guajillo pepper. Seeds and vains removed
Roma tomato
Onion
Fresh garlic
Cooked potatoes. I used left over baked potatoes
Salt and pepper to taste
Corn tortillas
Shredded lettuce
Cotija Cheese
For the homemade salsa roja
Roma tomatoes. Ripe.
Jalapeno peppers. You can remove seeds and veins if you want a milder salsa.
Small piece of onion
Fresh garlic. 1 clove
White vinegar or lime juice.
Salt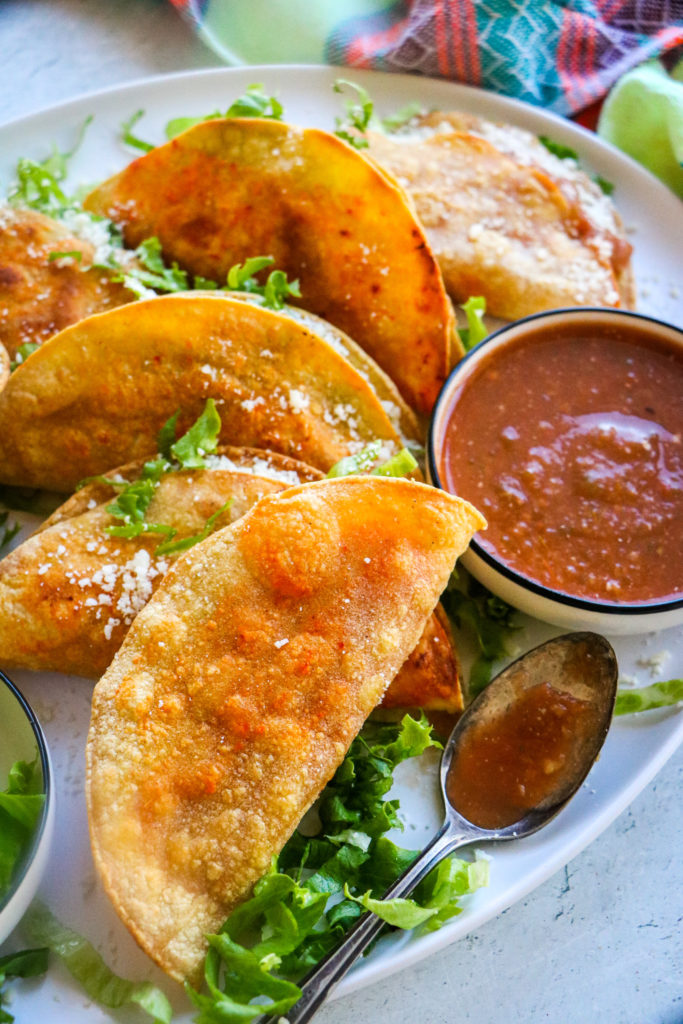 Helpful tips and trick
I used left over baked potatoes from the night before. Boiled potatoes would also work for this recipe. If you decide to boil them, I suggest boiling them whole so that they don't absorb as much water.
Guajillo peppers are a little fruity and mild in flavor, I use them a lot because my kids eat them very well. If you want a little more heat and intense flavor, a chipotle pepper would be a great addition to the sauce, it works so well with potatoes!
I like to boil the ingredients for the salsa Roja because it's so much easier to add everything to a saucepan and forget about it for 10 min. Especially when I am doing 10 other things in the kitchen. If you have the time and the willingness, you can cook the tomatoes, onions, peppers and garlic in a skillet. Place a skillet on medium-high heat and add 1 tablespoon of oil. Cut the veggies in half and add them to the skillet. Cook until tender. Blend and season with salt and vinegar or lemon juice.
Cooking the salsa ingredients on a skillet would give the salsa a deeper taste.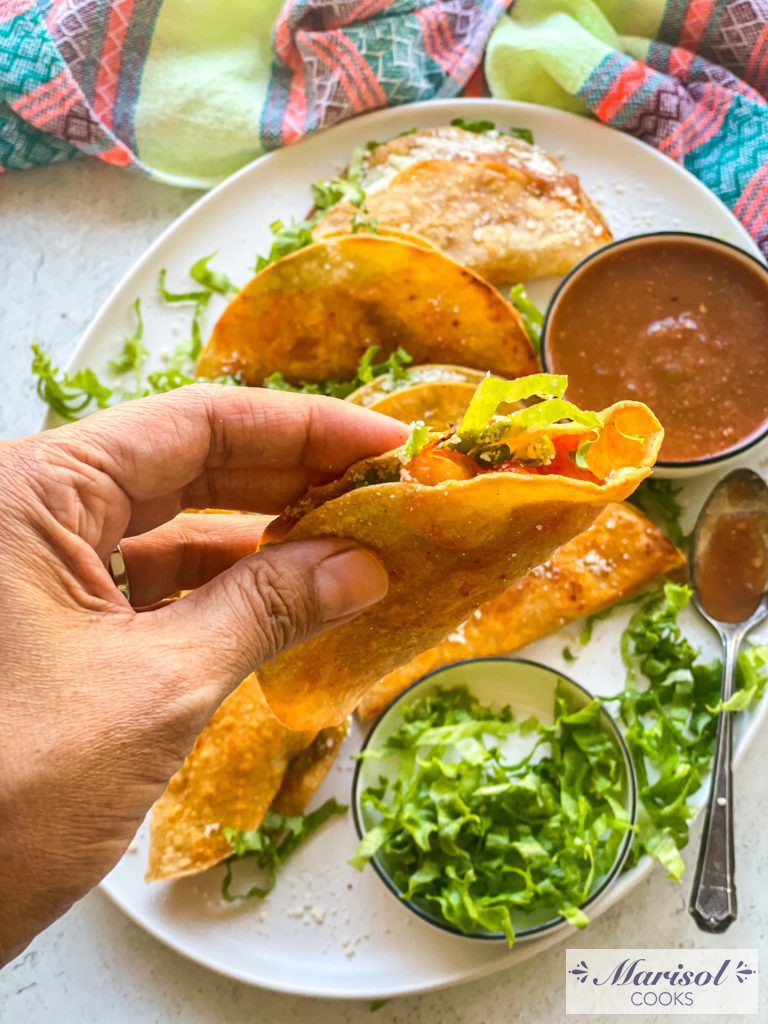 Potato tacos with homemade Salsa roja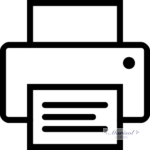 Ingredients
Olive oil
1 guajillo pepper, seeded
1 Roma tomato
1/4 onion
1 garlic clove
salt and pepper to taste
2 cooked potatoes roughly mashed (about 4 cups)
12-14 corn tortillas
Shredded lettuce
Cotija Cheese
Home made salsa (Ingredients as follow)
3 ripe Roma tomatoes
4 jalapeno peppers
1 small piece of onion
1 large garlic clove
1 teaspoon white vinegar
salt to taste
Instructions
Make the salsa: In a medium saucepan add the Roma tomatoes, jalapeno peppers (stem removed), onion and garlic. Add enough water to cover the tomatoes halfway up. Place the saucepan on medium high heat and cook until the skin of the tomatoes starts to break. Remove from the heat and allow to cool. blend until smooth or until desire consistency. Reserve.
In a small saucepan add the tomato and guajillo pepper. Add water and turn the heat to medium high. Simmer for about 5 minutes. Turn the heat off and let them cool.
Transfer the cooked tomato and guajillo pepper to a blender, along with the onion, garlic and salt. Blend until very smooth.
Add the oil to a large skillet and heat on medium high heat. Add the guajillo sauce and cook for about 5 minutes. Add the potatoes and stir around until evenly coated with the sauce. Use a wooden spoon to smash the bigger chucks of potatoes.
Taste and adjust seasoning if needed.
Preheat the oven to 400 degrees.
Brush the tortillas with a little bit of cooking spray and warm them up until pliable. Fill the tortillas with 1-2 tablespoons of the potato filling and fold into a taco. Place the tacos on a baking sheet and bake for 15 minutes turning them over the other side halfway through baking. Bake until golden brown (the tacos will get crispier as they cool).
Serve the tacos with shredded lettuce, homemade salsa and cotija cheese.
Enjoy!
© 2023 Copyright 2020 MarisolCooks.com