Jump to recipe
If migas are good, "Tacos de Migas" are extra good! This is my all-time favorite breakfast; I would also eat it for lunch and dinner if I could. Is that good! The best part of these tacos is the texture of the crispy corn tortillas against the soft flour tortilla. Creamy avocado and spicy salsa roja, just send these migas tacos over the top!
I've had migas my whole life but for some reason, never had them in tacos. This is something I learned in Texas. I always wonder why it took me so long to find them, or why they didn't find me before!
What you need to make Tacos de Migas
Oil. For frying the tortillas
Corn tortillas. For the migas
Flour tortillas. For the tacos
White onion
Jalapeño peppers
Roma tomatoes
Salt and pepper to taste
Avocado slices
Salsa
Cilantro for garnish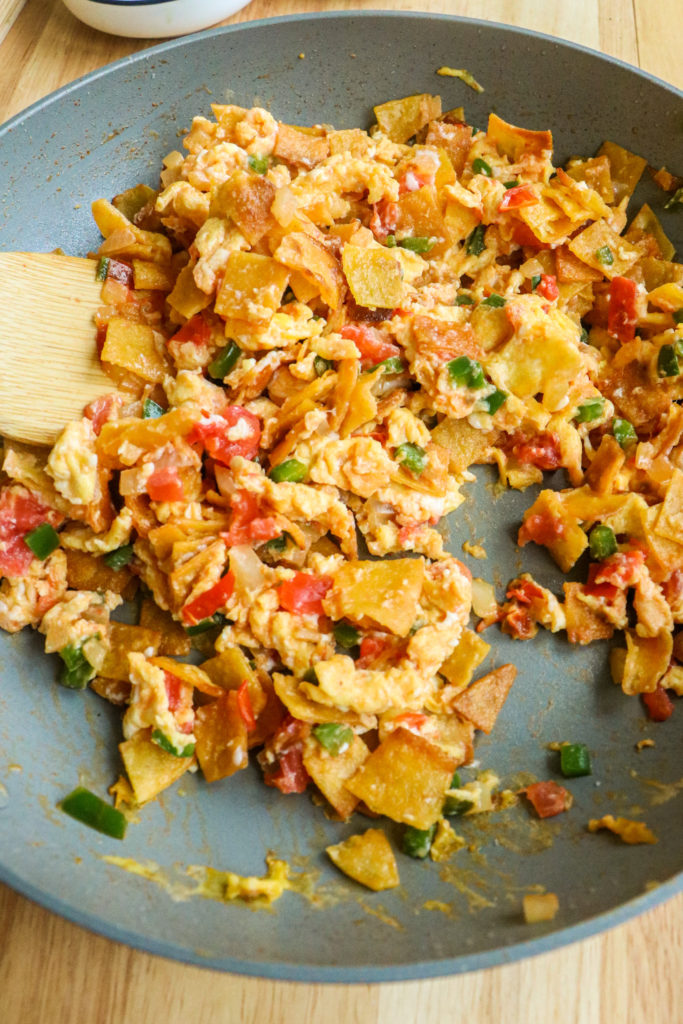 Helpful Tips and Tricks
Always make sure the oil is hot before you add the tortillas in. If it is not hot, the tortillas will absorb the oil and they will be greasy and not crispy. One way you can taste the oil is adding one piece of tortilla, if the oil bubbles around it, it means is ready.
Make sure to turn the burner to low when adding the onions, jalapeños and tomatoes. If the skillet remains too hot the eggs will cook too fast. Once the eggs are done it would be hard to make them stick to the tortillas.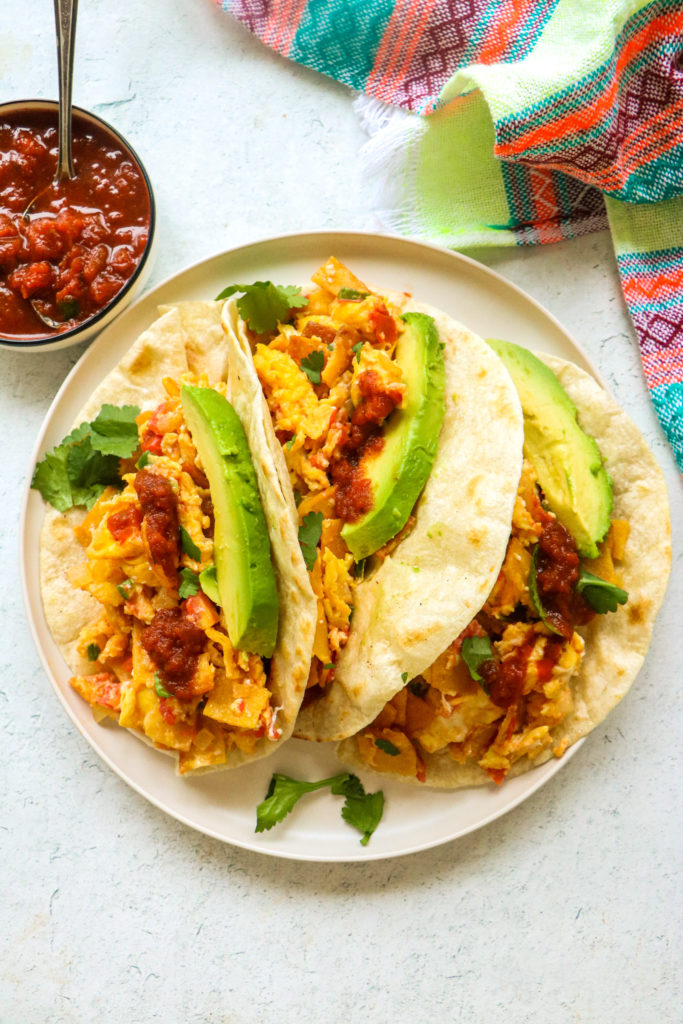 Tacos de Migas/ Migas Tacos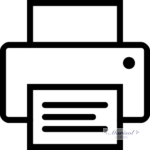 Ingredients
5 corn tortillas
2 tablespoons cooking oil
1/4 onion, chopped
1 jalapeño, chopped
1 Roma tomato, diced
4 eggs
4-6 flour tortillas (for the tacos)
Sliced avocado and salsa for serving
Fresh chopped cilantro for garnish
Instructions
Using a knife cut the tortillas into strips, then into squares about 1/2″ in size. Set aside.
In a medium nonstick pan add the 2 tablespoons of oil and heat on medium high heat. Once the oil is hot, add the tortillas and fry them until golden brown and crispy about 3-5 min, stirring frequently. Remove the crispy tortillas from the pan and transfer to a plate line with a paper towel.
Turn the heat to low and add the onions, pepper and tomatoes to the skillet. You should have enough oil left but you can add more if needed.
Cook until soft.
Lightly whisk the eggs and add them into the skillet and gently stir to combine.
Once the eggs have started to come together, stir in the crispy tortillas.
Serve the migas on warm flour tortillas, with avocado wedges and salsa.
Garnish with fres cilantro.
Enjoy!
© 2023 Copyright 2020 MarisolCooks.com